---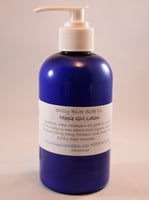 Hippie girl products are made with Sensual Aromatherapy Blend Essential Oils. An awesome feminine blend of essential oils reminiscent of a free spirit, and it smells absolutely fabulous. Completely natural ingredients and made when you order.
Ingredients: Wheatgerm Oil, Avocado Oil, Jojoba Oil, Glycerin, Stearic Acid, Emulsifying Wax, Distilled Water, Germaben, Essential Oil Blend (Ylang Ylang, Patchouli, Sweet Orange, Clary Sage & Clove)
Wheat Germ Oil: A nutrient rich and age defying oil readily absorbed by the skin. Wheat Germ Oil has a healthy infusion of Vitamins A, C, D and B along with anti-oxidants and fatty acids. It not only moisturizes and heals dry and cracked skin but helps prevent scarring. The Vitamin C fights free radicals, reduces skin damage, supports healthy collagen formations and maintains even skin tone.
Avocado Oil: An excellent source of Omega 3 fatty acids and Vitamins A, D and E. Easily absorbed by the skin and also protects skin from wind and sun damage. Avocado oil contains sterolins (natural steroid) that can help boost collagen production and help treat age spots. Avocado oil can help ease itching and inflammation while softening rough and cracked skin.
Jojoba Oil: Jojoba oil has been used in traditional medicine for hundreds of years. Well known for being a moisturizer, cleanser and skin softener it's natural affinity for human skin makes it a must for skin care. It helps decrease sebum production that blocks pores and is anti-bacterial in nature so it is extremely effective in the fight against acne and problem skin.
Ylang Ylang essential oil is helpful with anxiety, depression as well as a sedative
Patchouli essential oil is helpful with skin inflammation, fungal infections, acne, eczema as well as being an antiseptic.
Lavender essential oil is helpful with burns, inflammation, cuts, wounds, eczema, dermatitis, nervous tension, acne and infections.
Clove is as an analgesic and anti-septic
None of the information provided is intended to make any medical claims, diagnose, treat, cure any physical or mental condition, nor to prescribe any substance, or prevent any disease. Nor is any of the information intended as a substitute for the advice and treatment by your health professional or other competent counsel. None of the products offered have been evaluated by the FDA.