---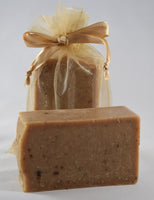 Frankincense and Myrrh were extremely expensive resins which were used as both medicine, and as Holy anointing oils. Myrrh is mentioned more in the Bible than any other aromatic essential oil. The fragrance is a rich combination of frankincense, myrrh, patchouli, herbaceous woody pine, sheer musk and floral lilac notes. The addition of frankincense and myrrh resin, not only add some great benefits for your skin but also make the soap look absolutely beautiful.
Buy More and Save! If you purchase a larger quantity, you can substitute different bars for in your purchase. Just leave me a note of which bars you would like..
Ingredients: Olive oil, Ethically Harvested Palm oil, Coconut oil, Hemp oil, Fragrance oil, Frankincense resin, Myrrh resin.
ALL soaps made by Stilly River Soap Co. are cold processed, handmade, hand poured and hand cut. They are made in small batches to ensure consistency and a high quality product for you and your family. Soap size is approximately 4 oz.
Soaps are packaged in an organza bag that makes it perfect for a small gift.
To keep your soap long lasting, do not leave in standing water. Keep in a draining soap dish or stand on its end.
Feel free to contact me if you have any questions regarding any of my products or ingredients.