---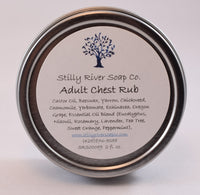 It's that time of year when those winter colds disrupt our routines and make us just plain miserable. Rub this on your chest to help ease chest congestion from common cold or flu and to promote healing.

Ingredients: Castor Oil Infused with Herbal Blend of (Yarrow, Chickweed, Chamomile, Yerbamate, Echinacea & Oregon Grape), Essential Oil Blend (Eucalyptus, Niaouli, Rosemary, Lavender, Tea Tree, Sweet Orange & Peppermint), Beeswax.

Yarrow (herb): It is helpful in relieving fevers, shortening the duration of cold and flu, helping improve relaxation during illness, and relieving cramps associated with hormones or illness.

Chickweed (herb): Used to help ease respiratory conditions, such as tuberculosis, whooping cough and the flu. It soothes the bronchial tubes and the lungs to help expel mucus or phlegm. This is due to its saponins, which help increase the permeability of the mucous membranes

Chamomile (herb): Chamomile contains antiseptic, anti-inflammatory and pain relieving qualities. Combats allergies and infections while alleviating muscle spasms.

Yerbamate (herb): Loaded with vitamins, minerals and antioxidants. Used as a stimulant. Useful with allergies and sinusitis. Helps boost the immune system

Echinacea (herb): Studies suggest that echinacea contains active substances that boost immune function, relieve pain, reduce inflammation, and have hormonal, antiviral, and antioxidant effects. May be helpful to shorten duration of colds.

Oregon grape (herb): Is renowned among herbalists for its ability to stimulate liver function, improve the flow of bile, and for blood cleansing. Oregon grape root contains berberine which has anti-viral properties to help fight flu and viral infections.

Eucalyptus Essential oil: Helps provide relief from runny noses, coughs and colds to help you breathe easier, as well as loosening phlegm, which is why you'll find it as an ingredient in many products such as cough syrups, rubs and vapor baths

Niaouli Essential Oil: Decongestant: This essential oil also opens up any congestion of the lungs, bronchi, larynx, pharynx, trachea and the nasal tracts by clearing out the deposition of phlegm in those areas. This helps you breathe easier and guarantee a good sleep at the end of the day. The expectorant property of this oil loosens up toughened depositions of phlegm or catarrh in the lungs, bronchi, larynx, pharynx, trachea and the nasal tracts, thereby giving relief from heaviness in the chest, as well as coughs and congestion. This oil helps to lower body temperature during fevers by fighting the infections that cause the fever and by promoting sweat. This also helps to detoxify the blood to some extent, thereby promoting faster relief from fever.

Rosemary Essential oil: Eases digestive issues and is full of antioxidants

Lavender essential oil: Helpful with inflammation, influenza, insomnia, infections and bacterial conditions. Helpful with relaxation.

Tea Tree Essential oil: Is helpful with bacterial infections, congestion and respiratory tract infections, earaches and fungal infections.

Peppermint Essential oil: Topically, peppermint oil has analgesic, anti-inflammatory and anti-spasmodic properties, it not only can relieve pain and inflammation but can also calm the spasms that cause muscle cramps.
Directions for Use:  Apply to chest area 3 times a day or as needed.
None of the information provided is intended to make any medical claims, diagnose, treat, cure any physical or mental condition, nor to prescribe any substance, or prevent any disease. Nor is any of the information intended as a substitute for the advice and treatment by your health professional or other competent counsel. None of the products offered have been evaluated by the FDA.

Feel free to contact me if you have any questions regarding any of my products or ingredients used.