---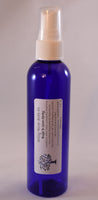 There's nothing worse than spending time surrounded by nature and having to bat away at the nasty mosquitoes. Many of the commercial products contain DEET which is known to be a neurotoxin. We spend a lot of time outdoors camping, hiking and fishing and this has proven to be one of the products we never leave home without. Completely natural and safe.

Works amazing to keep the mosquitoes at bay. A unique blend of herbs and essential oils to fight off the pesky bugs. Lemongrass, Clove, Rosemary and Catnip are infused into the Witch Hazel and a synergistic blend of essential oils that work hard as a repellent are added.

Ingredients: Witch Hazel infused with Lemongrass, Clove, Catnip and Rosemary, beeswax, Essential Oil Blend of Citronella, Lemongrass, Geranium, Lemon, Eucalyptus, Tea Tree, Rosemary & Lavender.

Directions, spray on any exposed skin and rub in, spritz clothing if needed. Apply often. This product may stain light colored clothing.

None of the information provided is intended to make any medical claims, diagnose, treat, cure any physical or mental condition, nor to prescribe any substance, or prevent any disease. Nor is any of the information intended as a substitute for the advice and treatment by your health professional or other competent counsel. None of the products offered have been evaluated by the FDA.