---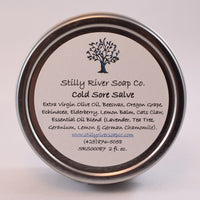 A unique blend of herbs and essential oils to relieve pain and speed healing of a cold sore outbreak and other viral infections.

Ingredients: Extra Virgin Olive Oil, Oregon Grape, Echinacea, Elderberry, Lemon Balm, Cats Claw, Lavender, Tea Tree, Geranium, German Chamomile, Lemon, Beeswax

Oregon grape (herb): Is renowned among herbalists for its ability to stimulate liver function, improve the flow of bile, and for blood cleansing. Oregon grape root uses have traditionally included treating both liver congestion and infectious conditions of both the stomach and intestines. Another benefit of oregon grape root is its functioning as an antimicrobial.

Echinacea (herb): Studies suggest that echinacea contains active substances that boost immune function, relieve pain, reduce inflammation, and have hormonal, antiviral, and antioxidant effects. Herbalists recommend echinacea to treat urinary tract infections, vaginal yeast (candida) infections, ear infections (also known as otitis media), athlete's foot, sinusitis, hay fever (also called allergic rhinitis), as well as slow-healing wounds.

Elderberry (herb): Used for its antioxidant activity to lower cholesterol, improve vision, boost the immune system, improve heart health and for coughs, colds, flu, bacterial and viral infections and tonsillitis.

Lemon Balm (herb): Contain tannin. Tannins have strong antiviral properties. They also contain eugenol, which is an antibacterial compound. Eugenol alleviates symptoms of herpes by giving relief from painful sores. When you apply lemon balm topically, you get instant relief from swelling, itching, and pain. What's more important is that lemon balm herb combats the outbreak or reactivation of herpes viruses.

Cats Claw (herb): Helps fight both viral and fungal infections such as Herpes and Candida

Lavender (herb): Beneficial for sprains and joint pain and burns. Helps the pain become less noticeable and relieves the swelling.
Tea Tree Essential oil: Helpful with acne, bacterial infections, chickenpox, cold sores, congestion and respiratory tract infections, earaches, fungal infections, head lice, halitosis, bug bites, sunburns, staph infections and boils.

German Chamomile Essential Oil: Antiseptic, Antibiotic, Disinfectant, Bactericidal and  Analgesic and helpful to speed healing.
Lemon Essential Oil: Strong Astringent and antiseptic.

The beeswax is taken directly from our own bee hives where we do not use any chemical treatments on the bees.
Directions for use:  Apply to affected area at least 3 times a day or as needed.

None of the information provided is intended to make any medical claims, diagnose, treat, cure any physical or mental condition, nor to prescribe any substance, or prevent any disease. Nor is any of the information intended as a substitute for the advice and treatment by your health professional or other competent counsel. None of the products offered have been evaluated by the FDA.

Free shipping on all orders.

Feel free to contact me if you have any questions regarding any of my products or ingredients used.