---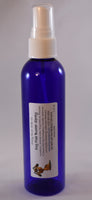 Use this spray daily as a means to keep the fleas at bay, you can spray on your dog and this product is great for their bedding and blankets and to help keep fleas under control in carpet. I also use this spray in the chicken coop to keep the bugs away.
Ingredients: Water, Polysorbate 20, Rosemary, Patchouli, Geranium, Tea Tree, Eucalyptus, Lavender, Rosemary, and Cedarwood Atlas Essential Oils
CAUTION: This product is NOT safe for cats. Cats can only tolerate certain essential oils when absorbed in the skin so use only the Cat Flea Oil for cats. For skin sensitively, please skin test in a small area.
Directions: Spray as needed on surfaces such as bedding, furniture and carpet, Can be sprayed on dog's coats, chickens or other animal except cats.
None of the information provided is intended to make any medical claims, diagnose, treat, cure any physical or mental condition, nor to prescribe any substance, or prevent any disease. Nor is any of the information intended as a substitute for the advice and treatment by your health professional or other competent counsel. None of the products offered have been evaluated by the FDA.