---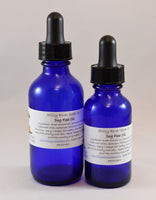 I made the switch to this all natural blend years ago. Flea free, the animals love the physical attention and I rest easy knowing I'm not using chemical ridden, over the top expensive products with possible harmful side effects.
If your pup is already flea free, once a month or as needed is plenty. Simply take one dropper full and distribute from the base of the neck to the base of the tail along the spine. If your pup is long haired, part the hair a bit before applied. Once on, massage into the skin. If your pup already has a flea problem, apply once a week until no sign of fleas and then monthly as needed.
Ingredients: Extra Virgin Olive oil, Rosemary, Patchouli, Geranium and Cedarwood Atlas Essential Oils
CAUTION: This product is NOT safe for cats. Cats can only tolerate certain essential oils when absorbed in the skin so use only the Cat Flea Oil for cats. For skin sensitively, please skin test in a small area.
Directions: Prior to use, test 1-2 drops on skin to check for skin sensitivity. For larger dogs use 1/2 dropper full from neck to tail along spine. For medium dogs use 1/4 of the dropper. For small dogs use 10 drops.
None of the information provided is intended to make any medical claims, diagnose, treat, cure any physical or mental condition, nor to prescribe any substance, or prevent any disease. Nor is any of the information intended as a substitute for the advice and treatment by your health professional or other competent counsel. None of the products offered have been evaluated by the FDA.