---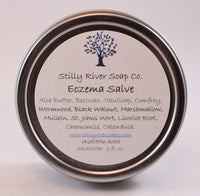 You will find relief from the itching, redness, pain and inflammation from eczema.

Ingredients: Olive Oil, Aloe Butter, Skullcap, Comfrey, Wormwood, Black Walnut, Marshmallow, Mullien, St Johns Wort, Licorice Root, Chamomile, Calendula, Witch Hazel, Beeswax

Skullcap (herb): In this application, used to treat allergies and skin infections.

Comfrey (herb): An Anti-inflammatory. It is used to aid in healing and reduce inflammation of injuries and infections. Useful in treating skin conditions. Acne, psoriasis, and boils are all improved by comfrey. It also reduces scar tissue during healing

Wormwood (herb): Wormwood applied directly to the skin for healing wounds and insect bites.

Black Walnut (herb): Beneficial for fungal infections, psoriasis, ringworm, acne and blisters.

Mullein (herb): Applied to the skin for wounds, burns, hemorrhoids, bruises, frostbite, and skin infections (cellulitis). The leaves are used topically to soften and protect the skin.

St Johns Wort (herb): Salves made with the extract can be used topically to treat bruises, burns, insect bites and scabies. St Johns is also used for treating moderate to mild depression, it helps to relieve pain, strengthens the nervous system and speeds healing.
Licorice Root (herb): An effective treatment for rosacea, atopic dermatitis, psoriasis, and drug-induced skin eruptions. Researchers believe its effectiveness comes from its ability to reduce redness and irritation. It also has been found to be a powerful anti-inflammatory, helping to control swelling and redness.

Chamomile (herb): Chamomile contains antiseptic, anti-inflammatory and pain relieving qualities. An effective remedy for wound healing, diaper rash and skin care.

Calendula (herb): An Anti-oxidant and anti-septic. Benefits are many including; eczema, minor burns, warts, sprains, wound healing, cramps, coughs, sore throat, snake bites, inflammation, hemorrhoids, fungal infections, ringworm, candida and boosts immune system.

Witch Hazel (herb): Witch hazel has strong astringent and healing properties, and is very useful in skin care. It has been shown to be useful in the treatment of various skin problems. Its anti-inflammatory properties make it a great remedy for chronic skin diseases.
Directions for use: Apply to affected areas 3 times a day or as needed.

None of the information provided is intended to make any medical claims, diagnose, treat, cure any physical or mental condition, nor to prescribe any substance, or prevent any disease. Nor is any of the information intended as a substitute for the advice and treatment by your health professional or other competent counsel. None of the products offered have been evaluated by the FDA.

Free Shipping on all orders.

Feel free to contact me if you have any questions regarding any of my products or ingredients used.