---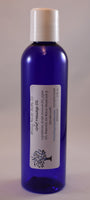 A synergistic blend of therapeutic grade essential oils specifically formulated to help promote spiritual healing in times of loss and periods of grieving.

Aromatherapy is administered by inhalation and topically. When inhaled, very simply, the molecules interact with the surface of your nasal cavity. Tiny olfactory nerves that are located in the room of the inner nose transmit these aromas to the part of the brain called the limbic system. The limbic system interacts to control heart rate, blood pressure, breathing, memory, stress level and hormone balance. This is why essential oils have such a powerful effect on our moods and general state of mind. When applied externally, the essential oils get absorbed into your skin and you get a more systemic approach.

Rosewood Essential Oil: Has a beautiful, strong and sweet fragrance. It helps bring balance and harmony with stimulating and uplifting properties that create a sense of well-being and self-confidence.

Sandalwood Essential Oil: Has a rich, sweet, warm, and woody aroma that is sensual and romantic. Used traditionally as incense in religious ceremonies and for meditation, this oil is uplifting and relaxing.

Sweet Almond Oil: It is mild and hypoallergenic and is fully absorbed by the skin.

Jojoba Oil: Jojoba oil has been used in traditional medicine for hundreds of years. Well known for being a moisturizer, cleanser and skin softener its natural affinity for human skin makes it a must for skin care. It helps decrease sebum production that blocks pores and is anti-bacterial in nature so it is extremely effective in the fight against acne and problem skin.

Vitamin E Oil is invaluable to our skin. It promotes healing, is a strong antioxidant, boosts collagen production, and supports new skin cell growth and cell regeneration.

Directions for use: There are several methods of delivery with oil. You can use as a massage oil, you can concentrate your application to your spine or your feet and you can also use as a bath oil adding 1-2 tablespoons to water per bath.

If you are pregnant or believe you may be pregnant, please consult your physician before starting any aromatherapy products.

None of the information provided is intended to make any medical claims, diagnose, treat, cure any physical or mental condition, nor to prescribe any substance, or prevent any disease. Nor is any of the information intended as a substitute for the advice and treatment by your health professional or other competent counsel. None of the products offered have been evaluated by the FDA.