---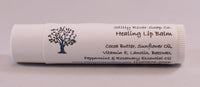 A definite go to when lips are chapped, dry or in need of healing. Pack of 3.

Ingredients: Cocoa Butter, Sunflower Oil, Vitamin E Oil, Lanolin, Beeswax, Essential Oil Blend (Peppermint & Rosemary)

Cocoa Butter: Very high in anti-oxidants, extremely hydrating and great for sensitive skin.

Sunflower Oil: Sunflower Oil retains moisture, and in preventing the skin from drying out, it helps to keep wrinkles at bay and the skin looking youthful and vibrantly healthy. It is extremely powerful at keeping away bacteria and maintaining youthful skin, and contains a rich mixture of vitamins and other natural substances that have a healthy effect on your skin and its pores. Prevents free radicals from damaging your skin and creating wrinkles and the appearance of premature aging. As an antioxidant, Vitamin E, in the sunflower oil, also acts as moisturizer, by helping the body cells retain water inside them.

Lanolin: A natural and organic compound that is mainly known for its moisturizing effects on the skin.

Vitamin E Oil: Invaluable gift to our skin. Promotes healing, strong anti-oxidant, boosts collagen production, supports new skin cell growth and cell regeneration.

Lavender Essential Oil: Helpful with burns, inflammation, cuts, wounds, eczema, dermatitis, headaches, influenza, insomnia, nervous tension, infections, bacterial conditions, sores, ulcers, acne and boils.

Rosemary Essential oil: Rosemary Essential Oil is full of antioxidants.

Beeswax: Is from our own hives.