---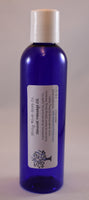 A synergistic blend of essential oils specifically formulated to promote a feeling of sensuality. Helpful for frigidity and a general sense of sensuality. Useful for men and women alike. This has always been my favorite blend and used in my Hippie Girl Products.

Aromatherapy is administered by inhalation and topically. When inhaled, very simply, the molecules interact with the surface of your nasal cavity. Tiny olfactory nerves that are located in the room of the inner nose transmit these aromas to the part of the brain called the limbic system. The limbic system interacts to control heart rate, blood pressure, breathing, memory, stress level and hormone balance. This is why essential oils have such a powerful effect on our moods and general state of mind. When applied externally, the essential oils get absorbed into your skin and you get a more systemic approach.

Ylang Ylang Essential Oil: Has a sweet, soft, flowery fragrance that has made it a romantic favorite. It is extremely effective in calming and bringing about a sense of relaxation, and helps with releasing feelings of anger, tension, and nervous irritability.

Patchouli Essential Oil: Sometimes called "the scent of the sixties," has a musky, earthy, exotic aroma. In Eastern cultures, it is commonly used around the house to provide general support for health and to help release negative emotions.

Orange Essential Oil: Has a rich, fruity scent that lifts the spirit while providing a calming influence on the body. Orange brings peace and happiness to the mind.

Clary sage Essential Oil: Contains natural phytoestrogens. It has a mellow, warm, herbal scent that is uplifting and relaxing, making it a perfect choice for supporting a normal, healthy attitude during PMS. It is also supportive for menopausal women.

Clove Essential Oil: Has a sweet, spicy fragrance that is stimulating and revitalizing.

Sweet Almond Oil: It is mild and hypoallergenic and is fully absorbed by the skin.

Vitamin E Oil promotes healing, is a strong antioxidant, boosts collagen production, and supports new skin cell growth and cell regeneration.

Jojoba Oil: Jojoba helps decrease sebum production that blocks pores and is anti-bacterial in nature so it is extremely effective in the fight against acne and problem skin.

Directions for use: There are several methods of delivery with oil. You can use as a massage oil, you can concentrate your application to your spine or your feet and you can also use as a bath oil adding 1-2 tablespoons to water per bath.

If you are pregnant or believe you may be pregnant, please consult your physician before starting any aromatherapy products.

None of the information provided is intended to make any medical claims, diagnose, treat, cure any physical or mental condition, nor to prescribe any substance, or prevent any disease. Nor is any of the information intended as a substitute for the advice and treatment by your health professional or other competent counsel. None of the products offered have been evaluated by the FDA.