---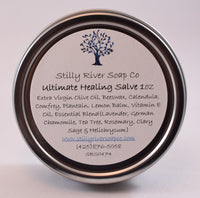 This is a salve I keep with me at all times.  The best herb and essential oils for all around healing.  Great for the skin and skin ailments and cuts or scrapes o bites.  A must have for any first aid kit or to have with you in the outdoors.
Ingredients: Extra Virgin Olive Oil, Beeswax, Calendula, Comfrey, Plantain, Lemon Balm, Vitamin E Oil, Essential Oil Blend (Lavender, German Chamomile, ea Tree, Rosemary, Clary Sage and Helichrysum).
Calendula (herb): Benefits are many including; eczema, minor burns, warts, sprains, wound healing, cramps, coughs, sore throat, snake bites, inflammation, hemorrhoids, fungal infections, ringworm, candida and boosts immune system.
Comfrey (herb): An Anti-inflammatory. It is used to aid in healing and reduce inflammation of injuries and infections. It is also used to promote healing of injuries such as broken bones, sprains, bruises, and strains. Used in oil or ointment form, is useful in treating skin conditions. Acne, psoriasis, and boils are all improved by comfrey. It also reduces scar tissue during healing.
Lemon Balm (herb):  When you apply lemon balm topically, you get instant relief from swelling, itching, and pain. What's more important is that lemon balm herb combats the outbreak or reactivation of herpes viruses.
Lavender Essential Oil: Helpful with burns, inflammation, cuts, wounds, eczema, dermatitis, headaches, influenza, insomnia, nervous tension, infections, bacterial conditions, sores, ulcers, acne, boils, and arthritis.
German Chamomile Essential Oil:  Anti-septic, antibiotic, disinfectant, bactericidal, anti-rheumatic, relaxant, anti-spasmodic and analgesic.  German Chamomile is known for its calming properties on inflamed skin.
Tea Tree Essential Oil: Used for infections such as acne, fungal infections, athletes foot, ringworm.  Great for cuts and abrasions, burns, insect bites and stings.
Rosemary essential Oil:  Helps ease digestive issues and is full of anti-oxidants.
Clary sage Essential Oil: Contains natural phytoestrogens. It has a mellow, warm, herbal scent that is uplifting and relaxing. 
Helichrysum Essential Oil:  Helps your skin stay soft, smooth, and moisturized, and prevents it from being dehydrated and cracking. This essential oil is also used for medicinal purposes as it has anti-microbial, anti-inflammatory, anti-oxidant, and anti-allergenic properties.
DIRECTIONS:  Apply 3 times a day to affected area or as needed.  
None of the information provided is intended to make any medical claims, diagnose, treat, cure any physical or mental condition, nor to prescribe any substance, or prevent any disease. Nor is any of the information intended as a substitute for the advice and treatment by your health professional or other competent counsel. None of the products offered have been evaluated by the FDA.
Free shipping on all orders.
Please feel free to contact me if you have any questions on this or another product.