---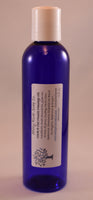 A unique blend of herbs and essential oils to speed recovery from workouts and muscle aches and pains. Help ease pain and discomfort as well as speed healing.

Ingredients: Hemp Oil, Arnica, St John's Wort, Comfrey, Peppermint, Devils Claw, Chamomile, Spearmint, Rosemary, Ginger, Eucalyptus, Beeswax

Arnica: Arnica is found to have antimicrobial and anti-inflammatory properties, and may be helpful for treating or relieving muscle aches, spasms, pulled muscles and rheumatic pain, helpful with delayed onset muscle soreness. Helpful with sprains, bruises and swelling due to fractures.

St John's Wort: Salves made with the extract can be used topically to treat bruises, burns, insect bites and speeds healing.

Comfrey: An Anti-inflammatory. It is used to aid in healing and reduce inflammation of injuries and infections. It is also used to promote healing of injuries such as broken bones, sprains, bruises, and strains.

Peppermint: Has analgesic, anti-inflammatory and anti-spasmodic properties, it not only can relieve pain and inflammation but can also calm the spasms that cause muscle cramps.

Devil's claw: Used widely in Germany and France to fight inflammation or relieve arthritis pain, headache, and low back pain. It can fight inflammation and relieve pain. Ongoing studies show relief for those suffering from osteoarthritis.

Chamomile: Chamomile contains antiseptic, anti-inflammatory and pain relieving qualities

Spearmint Essential oil: This oil has a relaxing and cooling effect on the brain, which removes stress on our cognitive center.

Ginger Essential Oil: When used topically, ginger oil can help relieve aches and pain, as well as promote normal blood circulation

Eucalyptus Essential oil: Topically, eucalyptus oil is analgesic and anti-inflammatory in nature. Used for rheumatism, lumbago, sprained ligaments and tendons, stiff muscles, aches, fibrosis and even nerve pain.

The beeswax is taken directly from our own bee hives where we do not use any chemical treatments on the bees.

None of the information provided is intended to make any medical claims, diagnose, treat, cure any physical or mental condition, nor to prescribe any substance, or prevent any disease. Nor is any of the information intended as a substitute for the advice and treatment by your health professional or other competent counsel. None of the products offered have been evaluated by the FDA.

DIRECTIONS: Apply 3 times a day to affected area or as needed.