---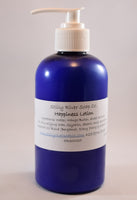 Happy Lotion is made with the Stilly River Soap Co.'s aromatherapy blend of Happiness which is a light summery scent and you will receive some aromatherapy therapeutic benefits. Main ingredient is Shea Butter coupled with Sweet almond oil which creates an absorbent, non-greasy smooth and silky lotion.

Ingredients: Shea Butter, Sweet Almond Oil, Glycerin, Vitamin E Oil, Stearic Acid, Emulsifying Wax, Germaben, Essential oil blend of Bergamot, Ylang Ylang & Grapefruit

Shea Butter is effective in curing skin rashes, skin peeling after sun exposure, scars, stretch marks, frost bite, burns and stings. The Vitamins A and protect the cells from free radicals and environmental damage. The cinnamic acid esters in the Shea fat help prevent skin damage from ultraviolet radiation.

Sweet Almond Oil is extremely moisturizing, has anti-inflammatory properties making it excellent for sensitive skin. It is highly absorbent and helpful in restoring the natural PH balance of your skin.

Vitamin E Oil: Invaluable gift to our skin. Promotes healing, strong anti-oxidant, boosts collagen production, and supports new skin cell growth and cell regeneration.

Bergamot Essential Oil may be helpful in use during periods of depression, sadness or grief, and it is known for its ability to help combat oily skin and acne.

Ylang Ylang Essential Oil is heralded for being helpful with stress and anxiety. It's also used in cases of depression or when trying to cope with anger. I use Ylang Ylang Oil in blends intended to focus upon happiness, gratitude and celebrating blessings. Ylang Ylang is also considered an aphrodisiac. Ylang Ylang Oil has been praised for helping combat acne and oily skin. It may help with alopecia (hair loss).

Grapefruit essential Oil is energizing, helpful with cellulitis, dull skin, toxin build-up, and water retention

None of the information provided is intended to make any medical claims, diagnose, treat, cure any physical or mental condition, nor to prescribe any substance, or prevent any disease. Nor is any of the information intended as a substitute for the advice and treatment by your health professional or other competent counsel. None of the products offered have been evaluated by the FDA.