---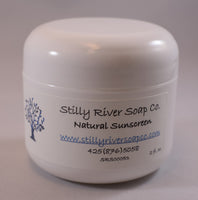 Simple Ingredients to help protect you and your family from overexposure to the sun. All Natural and scented with Sweet Orange Essential Oil and Vanilla Extract for a scent that is not only delicious but the kids will love it too. Lotion needs to be applied often, especially if in and out of the water. SPF is a minimum of 30.

Ingredients: Cocoa Butter, Sweet Almond Oil, Beeswax, Zinc Oxide, Sweet Orange Essential Oil, Vanilla Extract.

Cocoa Butter: Very high in anti-oxidants, helps reduce stretch marks, extremely hydrating and great for sensitive skin.

Sweet Almond Oil: Extremely moisturizing, has anti-inflammatory properties making it excellent for sensitive skin. It is highly absorbent and helpful in restoring the natural PH balance of your skin
Zinc oxide is a very fine white powder that is non-nano and used for whitening, adhesion and UV protection.

None of the information provided is intended to make any medical claims, diagnose, treat, cure any physical or mental condition, nor to prescribe any substance, or prevent any disease. Nor is any of the information intended as a substitute for the advice and treatment by your health professional or other competent counsel. None of the products offered have been evaluated by the FDA.

Feel free to contact me if you have any questions regarding any of my products or ingredients used.