---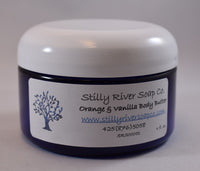 Use this body butter for luxurious skin. An Amazing summer fragrance of Orange And Vanilla. This is not traditional body butter. It goes on less greasy. Simple and natural ingredients to nourish you skin.

Ingredients: Shea Butter, Coconut Oil, Sweet Almond Oil, Jojoba Oil, Beeswax, Arrowroot Powder, Vitamin E Oil, Sweet Orange Essential Oil, Vanilla Extract

Shea Butter is effective in curing skin rashes, skin peeling after tanning, scars, stretch marks, frost bite, burns, athlete's foot, bites, stings, arthritis and muscle fatigue

Coconut oil is a powerful moisturizer that is beneficial to restoring dry or flaking skin. It helps to strengthen skin tissue more deeply and eliminate dead skin cells while absorbing quickly into your skin. It also helps to delay the occurrence of wrinkles because it contains antioxidant Vitamin E, known to protect skin cells from damage over time. The Vitamin E found in coconut oil soothes eczema, sunburn and psoriasis, and its antiviral and antifungal benefits even help to treat bug bites and fight fungus.

Sweet Almond Oil is extremely moisturizing, has anti-inflammatory properties making it excellent for sensitive skin. It is highly absorbent and helpful in restoring the natural PH balance of your skin.

Jojoba Oil has been used in traditional medicine for hundreds of hears. Well known for being a moisturizer, cleanser and skin softener, it's natural affinity for human skin makes it a must for skin care. It helps decrease sebum production that blocks pores and is anti-bacterial in nature so it is extremely effective to fight against acne and problem skin.

Vitamin E Oil: Invaluable gift to our skin. Promotes healing, strong anti-oxidant, boosts collagen production, and supports new skin cell growth and cell regeneration.

Sweet Orange essential oil is especially cheerful. This essential oil is also helpful with dull skin.

None of the information provided is intended to make any medical claims, diagnose, treat, cure any physical or mental condition, nor to prescribe any substance, or prevent any disease. Nor is any of the information intended as a substitute for the advice and treatment by your health professional or other competent counsel. None of the products offered have been evaluated by the FDA.